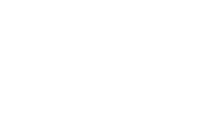 MICRO HARDNESS TESTERS
Built in dial-a-weight system easily changes from load to load.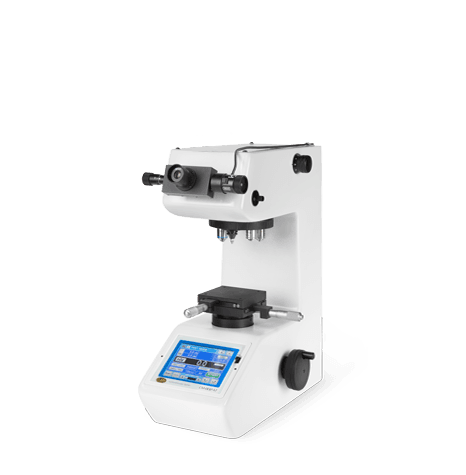 CM Series Micro Hardness Testers
As a variety of new materials are being introduced to the market, the need for Vickers and Knoop micro hardness testing has greatly increased. CM Series Micro Hardness Testers utilize advanced technology for incredibly accurate test results. And for optimum flexibility, combine the CM Tester with our available ARS Software, for a complete automated testing system.
Special Features
Built in dial-a-weight system easily changes from load to load.
 Advanced microcomputer with LCD touch panel display (CM-802/CM-802AT)
Automated test sequence performs easy hands-free loading operation
Vickers, Knoop, Brinell and fracture toughness (Kc) testing (CM-802/CM-802AT)
Sharp clear optics provide accurate indentation readings
Optional dual indenter turret is available with up to 4 objectives on the CM-802
and 3 objectives on the CM-102 and CM-402
Optional digital micrometer head with CM-802 screen display (CM-802)
USB output connection (CM-802 Series)
Built-in LED surface light
Conforms to tolerances per ASTM & ISO 17025 Standards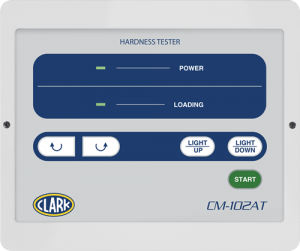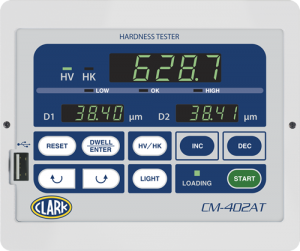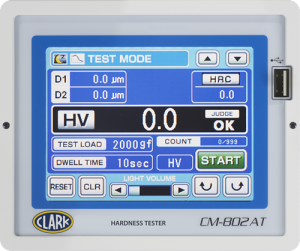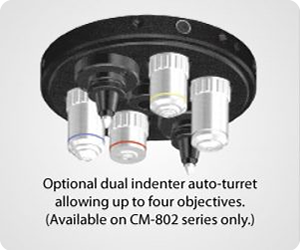 ITEM

CM-102 /CM-102 AT

CM-402 / CM-402 AT

CM-802 /CM-802 AT

TEST LOAD gf(N)
Type A
10 (98.07)
25 (245.2)
50 (490.3)
100 (980.7)
200 (1961)
300 (2942)
500 (4903)
1000 (9807)
10 (98.07)
25 (245.2)
50 (490.3)
100 (980.7)
200 (1961)
300 (2942)
500 (4903)
1000 (9807)
5 (49.03)
10 (98.07
50 (490.3)
100 (980.7)
200 (1961)
300 (2942)
500 (4903)
1000 (9807)
2000 (19614)
Type B
5 (49.03)
10 (98.07)
25 (245.2)
50 (490.3)
100 (980.7)
200 (1961)
300 (2942)
500 (4903)
5 (49.03)
10 (98.07)
25 (245.2)
50 (490.3)
100 (980.7)
200 (1961)
300 (2942)
500 (4903)
1 (9.807)
3 (29.42)
5 (49.03)
10 (98.07)
50 (490.3)
100 (980.7)
200 (1961)
300 (2942)
1000 (9807)

Type C
50 (490.3)
100 (980.7)
200 (1961)
300 (2942)
500 (4903)
1000 (9807)
2000 (19614)
50 (490.3)
100 (980.7)
200 (1961)
300 (2942)
500 (4903)
1000 (9807)
2000 (19614)
1 (9.807)
10 (98.07)
25 (245.2)
50 (490.3)
100 (980.7)
200 (1961)
300 (2942)
500 (4903)
1000 (9807)
Type D
1 (9.807)
5 (49.03)
10 (98.07)
50 (490.3)
100 (980.7)
300 (2942)
500 (4903)
1000 (9807)
2000 (19614)
1 (9.807)
5 (49.03)
10 (98.07)
25 (245.2)
50 (490.3)
100 (980.7)
300 (2942)
500 (4903)
1000 (9807)
2000 (19614)
1 (9.807)
5 (49.03)
10 (98.07)
25 (245.2)
50 (490.3)
100 (980.7)
300 (2942)
500 (4903)
1000 (9807)
2000 (19614)
Type E
1 (9.807)
5 (49.03)
10 (98.07)
25 (245.2)
50 (490.3)
100 (980.7)
300 (2942)
500 (4903)
1000 (9807)
LOADING MECHANISM
Automatic (loading, holding, removing method)
APPLYING LOAD SPEED
55μm/sec
DWELL TIME
5-40 sec
5-99 sec
5-99 sec
TURRET MECHANISM
Manual or Automatic Turret (AT)
MICROSCOPE MAGNIFICATION
Measurement: 500X (obj. 50X – eyepiece 10X) — Observation: 100X (obj. 10X – eyepiece 10X)
MEASURING MICROSCOPE
Max. measuring length
Min. graduation
Min. measuring unit
Mechanical

Micrometer: 0.5 μ m
Eye judgement: 0.1μ m
Electronic
For 100X:850μ m / For 500X: 170μ m
0.01μ m
Digital; 0.01μ m / In case of 500X
Electronic

0.01μ m
Digital; 0.01μ m / In case of 500X
AVAILABLE TEST PARAMETER
HV/HK
HV/HK
HV / HK / HBW / Kc
FRACTURE TOUGHNESS TEST
Conforms to JIS R1607 / IF method
DATA DISPLAY
Power / Loading
D1 / D2 / HV-HK / Hardness Value / Loading / OK-NG Criteria
D1 / D2 / HV-HK / Hardness Value / Conversion Data / OK-NG Criteria
DATA OUTPUT
D1 / D2 / HV-HK / Test Load / OK-NG
D1 / D2 / HV-HK / Test Load / OK-NG Conv. Scale / Conv. Data / Statistic Data
HARDNESS CONVERSION
ASTM (E-140)
OK/NG CRITERIA
Limit setting and HI / OK / LO display
Limit setting and HI / OK / LO display
ACCURACY
Conforms to tolerances per ASTM E-92, ISO 6507-2, ISO 4545-2
DIMENSIONS OF X-Y STAGE
100 x 100mm
MAXIMUM MOVEMENT
25mm in X & Y axis
MINIMUM MICRO GRADUATION
1/100mm
MAXIMUM HEIGHT OF SPECIMEN
3.75" (95mm)
MAXIMUM DEPTH OF SPECIMEN
4.5" (115mm)
DIMENSIONS
7.3 x 17.7 x 19.8 in / 186 x 450 x 504 mm
WEIGHT
Aprx. 85 Lbs / 39 kg
POWER SUPPLY
120 VAC 1Ø 2A / (AC 100~240V) Please Specify

STANDARD ACCESSORIES

Hardness Standard, Manual X-Y Stage, Diamond Indenter, Measuring Microscope, Objective Lens (x50, x10)
Hardness Conversion Table (CM-102), Indenter Cover, Accessory Box, Machine Cover, Accessory Box, Manual, Leveling Legs