Mounting Presses
Powerful heating elements allow for extremely quick mounts within minutes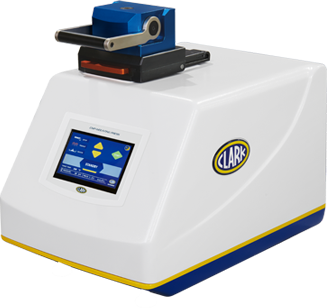 Mounting Presses
The Clark Instrument CMP Series Automatic Mounting Press is ideal for a variety of sample mounting materials and resins. It is capable of mounting both single or dual mounted samples, and includes a rugged upper mold design with a slide closure for one hand operation. This enclosed system allows for the sample to be installed and removed much more easily and safely than previous designs. In addition, the CMP provides shortened run-times through the use of its quick preheating function and cooling of samples.
Special Features
Special Features
Upper mold head assembly provides smooth operation.
7″ color touch screen with preprogrammed settings and two user define settings
Color status bar with pressure, heat, cure and cool times displayed.
Rugged mold enclosure with integrated side dust extractor
 Electro-hydraulic design for extremely quiet operation
 Built in applications include Bakelite Epoxy and Thermoplastics mounts
Integrated dust exhaust system with HEPA filtration, ESD safe. (Optional)
Recirculation system with fan cooled radiator and stainless steel tank (shown) available. (optional)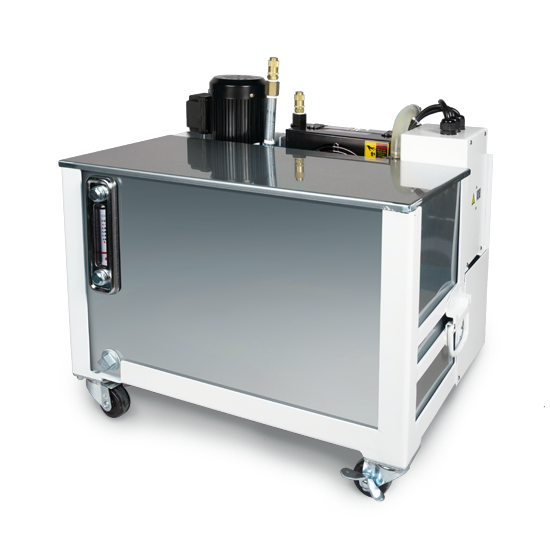 MODEL

CMP FIXED MOLD CYLINDER

CMP CHANGEABLE MOLD CYLINDER

MOLD CYLINDER SIZE
Choose from 1.25", 1.50", 32mm, 40mm, 50mm
50mm (opotional sleeves 1.25", 1.50", 32mm, 40mm
PRESSURE SYSTEM
CPU controlled hydraullic operation -- 2500-4500 psi by 10 psi
MOUNTING QUANTITY
1-2 per cycle
TEMPERATURE CONTROL
F°/C° selectable from 212-392° F / 100-200° C (set x1° increments)
HEATING TIME CONTROL
1-59 minutes, set in 1 min / 1 sec increments
COOLING CONTROL
104-158°F (40-70°C) (cool-down dependent on cylinder temperature preset )
COOLING SYSTEM
External Water Supply: Min. Pressure of Water Supply: 2L / minute through 2 connected tubes
MACHINE TYPE
Table Top – Aluminum Frame with hard-coated FRP cover
DIMENSIONS
16" x 24" x 21" (410 x 600 x 533 mm)
WEIGHT
191 lb. (87 kg)
POWER SUPPLY
220 VAC 1Ø 8.7 amp 1920 Watt (Optional: 120 VAC 1Ø 16 amp 1920 Watt (specify prior to ordering)
STANDARD ACCESSORIES
Silicon mold release, Bakelite, spoon and necessary tubing for operation
* Please specify power requirements. Appearance and specifications are subject to change without prior notice.

RECIRCULATOR COOLANT SYSTEM (OPTIONAL)

Capacity
40 L (10.5 gal)
Pump
1/8 hp
Flow of Water Supply
4 L/min
Dimensions
21.25 in W x 15.75 in D x 18.7 in H
(540 mm W x 400 mm D x 475 mm H)
Weight
66 lb (30 kg)
Supply
Plugs directly into Mounting Press: Switchable 115V or 220V.
Additional Features

Quick-Connect coolant system
Radiator-cooled reservoir
Heavy duty casters
Temperature coolant gauge
We recommend the use of our corrosion inhibitor additive when using this recirculator.